It's been a very hazy week. There has literally been mist on my window every morning. Well, to add to it, my brain is also in a bit of fuzz recently. I haven't been writing for this blog as I planned to but hey, I made no promises to myself to keep writing every other day so no resolutions broken, am I right? 😛
Anyway, let me just sit down and type away the recent events and thoughts occurring in the past week. I feel like I'm holding things back from myself if I don't write things down, as if I'm just passing life by without exact meaning since all of these thoughts will slip away some day. So I'll set myself free now of this constant desire. I don't want to keep myself hanging.
Back in Wednesday, since Wildfire was up again, that meant the youth band is also back. At first, I really didn't want to do anything with the band since I wanted some alone time for myself. However that morning, Ronali, our youth leader, contacted me through facebook asking if I could play box drum. When she asked me to do so, I'm pretty sure I made a fist pump out of excitement. I've had the desire to play the box drum on stage for a while, actually. I know how to play guitar and piano, but since being lead guitar is so stressful and the keyboard of church was broken, I've turned on my shakers as my only weapon left. And since I remember having brief fun with the box drum last year, I wanted to play it. The truth is, drums were my number one "want to learn" instrument back even when I was a kid, but I never got a chance to since drum sets were too loud and big for our little apartment. This led me to creating shakers from water bottles with rice to buying actual egg shakers since I had no other option. I've also always been fascinated with box drums so imagine how happy I'd be trying to play and learn the box drum finally after years of admiring it. That's why I was filled with so much happiness that Ronali decided to hire me as the box drummer for the first Wildfire of the year. And to be honest, I didn't do that horrible. Eventually, after 15+ minutes or so of handling it, I got the jiz of it.
Anyway, at practice, we were all girls since the boys bailed on us the last minute. I don't blame the boys for leaving us to do all the work, though. I've had the most fun after multiple times of being in the band. Musically talented girls are totally my kind of jam of a hangout. Shopping, doing nails, watching movies, or talking about useless affairs isn't really my thing. I'm more of that kind that needs less conversations and more communication through fun activities like playing instruments… or video games (just whatever is fun to me, really. I have to be doing something with people other than talking. For me, that makes me feel closer to an individual other than asking multiple questions about him/her. #introvert).
That afternoon/evening was totally a great night. There's Aantuu with the amazing vibe of a naturally born R&B artist, which makes me anticipate her voice every single time she's singing. There's Shelby with her heavenly voice and heavenly violin ad-libs that always make me bawl because it's so beautiful.
And when Aantuu and Shelby start harmonizing, I just… I can't even. It's too much sometimes too handle because I'm all in for perfection when it comes to music. Here's one example of that perfect harmonization. Don't mind Ronali's voice, though. Ronali's voice sounds fine but hey, that's not what I'm talking about here right now.
After practicing for the youth service, my sister started playing the music we composed back in January 1 in our parents' friends' house. When she started playing that, I started adding some box drum beats to it. While we were playing, Aantuu was totally amazed at the mellow, feel good vibe of it all. She asked us if it was a real song and we said no. I told her she can just add lyrics to it if she wants to. Even Shelby found the composition to be very nice… so nice that she started improvising with lyrics. Come and have a listen to this:
Easy jam, isn't it? It had the vibe of café music… at least that's what everybody says. I think so, too.
After that, we basically just started talking about band names, from Spicy Chick to Unplugged Chicks. Ronali even put it up on the Wildfire Youth facebook page which I thought was kind of embarrassing but hey, we created awesome music. That's the only thing that mattered to me.
You can hear our conversations in the audio above.
There were also some cheez-its keeping us company… processed food is good lol.
The next day, we went to Wildfire quite early. Caitlin, my SooYoung friend (taller, and my playful bully, kind of friend), my sister, and I basically roamed around the church to find some company for at least 5 to 10 minutes. We played around the courtyard while talking about her school problems. And every time I say something that doesn't go along with her thoughts, she'd threaten to beat me up saying "We need to have a talk" which I find extremely funny. She's not exactly a bully, but she does seem to act like one. I don't mind, though. I see her mild, rough treatment to me as her way of affection since she's not exactly like this to everybody. She only does this to the ones she feels comfortable with.
I've got her character down after seeing her last year, one Wildfire night. She's that kind of introvert who sticks to one, two, or three people only for the rest of the day, and when they are taken away from her, she tries to go with the crowd but is not exactly as open and loud as she was with that one, two, or three friends. She's an introvert who is really good at hiding that she's an introvert. But I get you, Caitlin. You surely are an interesting one. Confidence and toughness brightly shines on the outside, but beneath that shell is a nervous little cat who'd rather nudge someone else to answer for her when it came to speaking to a group.
When the people of Wildfire started showing up and started talking about their exams and all that crap, I noticed I always find myself sarcastically adding to their conversation my problems of exams, too. Lol, as if I did have problems of studying really hard for exams… no, I don't. I'm home schooled. The tension exists, but it's very bearable. The point here is, I find myself sarcastically talking or joking whenever I really like the topic, or in this case, when I really find it annoying.I get that I don't share the pain of forcing myself to wake up early in the morning to go to school and then go study for endless tests (I know how it feels, though. I've been there before), but if that's a normal matter of life, why are we talking about it so often? Like do you think everyone would be interested in hearing about stupid exams? I mean I can take the topic if it was brought up at least once every two or three months, but hearing it every week is so tiring.
Can't you talk about something else other than exams? Like periods or something… racism, God's grace, deep things in life, or even the most random crap like stars, travels, heartwarming experiences… there are tons of other topics worth talking about other than stupid exams. Get your heads straight. If exams are the only things on your head that you can talk about, I'm very concerned for you.
Sorry about my little rant, but this has been going on for as long as I can remember living in this country. It's just one of my biggest pet peeves. I just realized this recently.
There's was that one point when I had to give my late Christmas gift to the girl who tried to make a video for me (the one I mentioned previously). I found myself acting weirdly… agh, as if I was hitting on a girl, and I was the guy. At least it felt like that. Gah, it always feels like that when it came to her. Now I feel so weird… Anyway, I poked her on the shoulder and gave her the gift. She then hugged me and thanked me and told me she felt really bad that she could not give anything back. It was alright, though. I still found her adorable apologizing like that. It has come to a point that I can't get angry at her because everything she does, I find interestingly pleasing and amusing anyway.
By the end of the Wildfire Youth, she and her best friend Jessica had some weird shenanigans going on and Caitlin told me to film them. So I did, and now I have a video of Jessica dancing and moving rather strangely in an amusing way and her trying to say 감사합니다 to my camera. It was funny and adorable how she said it. It was so fail but I was still amused hahaha…
The next morning, at Fuel (early morning youth group), I don't quite remember a lot of things but there is this one thing: "What is your theme for 2015—your guiding words?"
I answered: Brighter Days
Let's stay true to that theme, shall we?
I'm pretty sure my Dad is in a mild mid-life crisis right now. Recently he's so interested in fashion, in latest news, and latest gadgets. He doesn't want to be beat when it came to our gadgets. Meanwhile, Mom is also in kind of a mid-life crisis, not caring about fashion anymore that much and plays Line games like it's the hit thing these days. It's funny sometimes how people grow. I mean, it's funny how me, an optimistic, cheerful little ball, turned into a very silent little crap, observing the negatives of the world carefully.
This weekend, my sister and Dad bought new phones, resulting to Dad passing his old phone (which isn't that old) to me. I put up TaengSic as my photo lock and downloaded a bunch of Pesoguin widgets. Now it totally looks like a teenage girl's phone, not like the one where the wallpaper was never changed after it was bought from the gadget store. Ugh, men's laptops and phones are always so empty and boring.
The week started off really hazy as I said. I was referring to the cycle of the sun and the dark clouds hanging throughout the whole day. I noticed that if the sun was never up, my brain's cycle gets a bit tracked off since it doesn't have a sense of what time it is. In Sunday, I woke up about 9 am thinking it was still 7 am, and kept fiddling with my phone for what I thought was a while but was actually two hours, resulting to me getting up at 11, which is a big no-no.
It's really confusing and frustrating. I was getting out of hand.
Good thing my overdrive is working again. I've been trying my hardest to do school work properly after last night when my mom told me I should do extra effort in order to finish this school year.
I honestly want to do my best. My English PACE is convincing me that true happiness is doing the right things for God—having self-control over my spirit and not becoming a slave over my own flesh.
And it's certainly proving itself true so I'll be trying my best!
Oh, right, Line just sent me One Fine Day's music video yesterday morning and I am freaking out at how much the girl resembles SeoHyun!!!! I'm not even being delusional here. One can easily point out after watching We Got Married of YongSeo epsiodes, most scenes in One Fine Day were the same thing.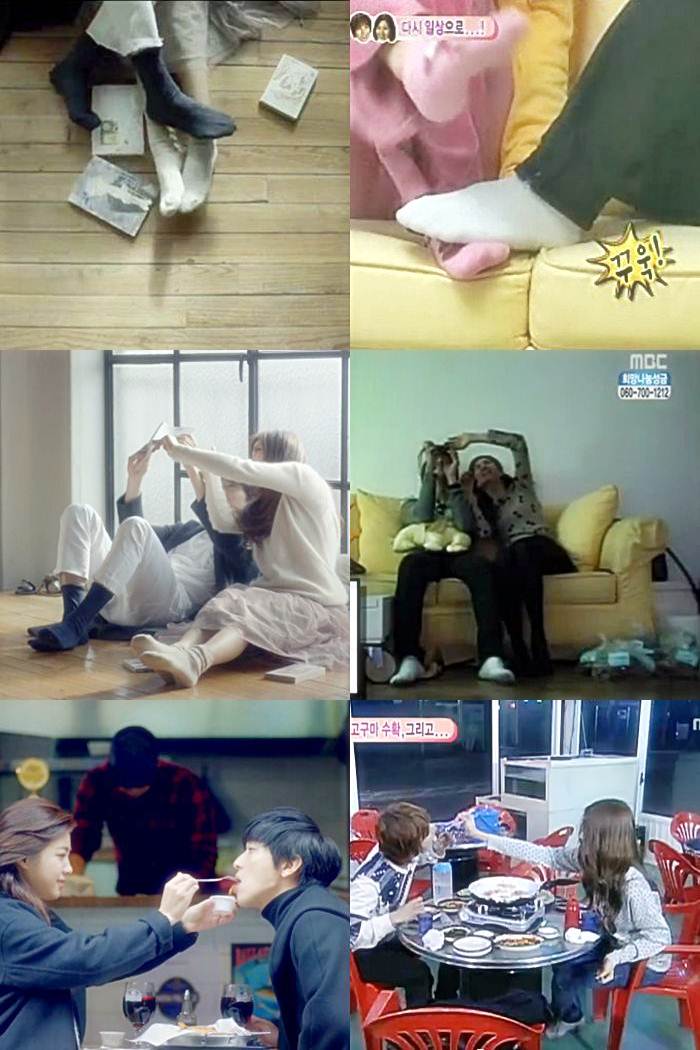 I mean come on, you'd be lying if you say that girl look nothing like SeoHyun or never acted like SeoHyun.
YongHwa could have chosen a cast that didn't have double-eyelids, small eyes, no aegyo fat, and short hair, and also a different kind of woman, but nooooo, she chose the proper-like woman who reads books, stunningly has long flowing brown hair parted to the left, with double eye-lids, bright and big eyes. He also could've chosen someone a little taller or someone rather smaller but noooo, he chose the height that had always matched him well.
Let's just see in a few more months… or years… gah, I don't care! YongSeo is too obvious at this point. Even though I want them to be together, I just want to slap YongHwa and shout at him saying, "Be a little more secretive! We don't want you guys to get a scandal!"
Just like YongSeo President Tiffany (plus SeoHyun and SooYoung), I'll pray that everything goes well in their love story.
YongSeo, 화이팅!!
❤❤❤